IMMEDIATE release Information contact:
Alaina Viau: 647-539-4020, alaina@looseteamusictheatre.com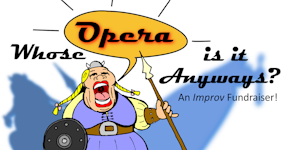 Loose Tea's Artistic Director Alaina Viau today announced that Loose Tea will host "Whose Opera Is It Anyway?" on July 22, 2015 from 7pm-9pm at the Office Pub at 117 John Street. Cost is $25 per person includes a free glass of BareFoot wine, nibbles and sore cheeks from laughing too hard . Proceeds will be used to fund the summer opera Dissociative Me an English re-work of the classic "Faust" set in modern times.
A night of opera shenanigans where Loose TEA is doing IMPROV opera! The company singers will be taking the games from "Whose line is it Anyway" and daring to do them while singing opera! Hear a Verdi aria sung in the style of Madonna, or Don Giovanni serenading about flying cats in space.
Hosted by Toronto comedian Andrew Johnston, with DJ'd music this is the party to be at! Bid on the improve element in selected games and have your suggestion played out by out incredibly talented singers!
The event will feature Michael York, Gregory Finney, Whitney Mather, Kijong Wi, Fabian Arciniegas and Charlotte Knight. Loose Tea is a nonprofit organization whose purpose is to make opera accessible to the modern public and bring in a new audience.
For ticket information go to https://www.eventbrite.ca/e/whose-opera-is-it-anyway-tickets-17698313131
Loose Tea is Not Your Grandfather's Opera – run by a group of arts innovators, Loose TEA offers Torontonians a bold new live music experience. We mash up Classical music and turn opera on its head.
"Press releases and announcements" are presented verbatim without comment